Celebrate Chanukah with Temple Sholom!
Join the Temple Sholom community in-person and via Zoom for all eight nights of Chanukah for candle lighting and blessings.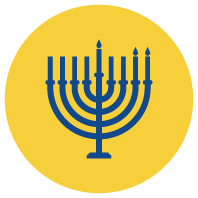 2nd Candle
Monday | NOV. 29 | 7:00PM | Zoom
Led by Brotherhood & Women of Temple Sholom

3rd Candle
Tuesday | NOV. 30 | 7:00PM | Zoom
Led by Sholom Justice


4th Candle
Wednesday | DEC. 1 | 7:00PM | Zoom
Led by 40s/50s(ish) & Makom


5th Candle
Thursday | DEC. 2 | 7:00PM |Zoom
Led by Mishpacha & Shalem
6th Candle
Friday | DEC. 3 | 6:15PM | Hybrid
We will have a special Chanukah treat at our "Oneg-to-go-neg"
for those attending Shabbat in-person.

7th Candle
Saturday | DEC. 4 | 7:00PM | Zoom
Led by IOT

8th Candle
Sunday | DEC. 5 | 7:00PM | Zoom
Led by Or Chadash
Wed, December 8 2021 4 Tevet 5782