Our Clergy
Rabbi Shoshanah Conover
Senior Rabbi
773-435-1534
rabbiconover@sholomchicago.org
Learn more about Rabbi Conover

Rabbi Shoshanah Conover is the 8th Senior Rabbi of Temple Sholom of Chicago in its 152-year history. She earned a B.A. in English Literature and Creative Writing from the University of Wisconsin-Madison, Dean's List, Cum Laude. Her love of the Jewish people and Jewish texts, as well as a strong commitment to social justice, led her to rabbinical school.

Rabbi Conover's responsibilities at Temple Sholom of Chicago reflect her passions: learning and teaching inspiring (and challenging) texts, leading dynamic and engaging spiritual experiences, serving as pastoral counselor, and finding ways to improve our world through the guidelines of our faith.

Rabbi Conover is a Senior Rabbinic Fellow of the Shalom Hartman Institute. She serves on the Steering Committee of the Chicago Status of Women and Girls Working Group and is

in the founding cohort of the Aspen Institute's Powering Pluralism Network, a national network of faith, civic, and academic thought-leaders who seek to weave a stronger fabric of civility in our national dialogue through institutions of faith.

Rabbi Conover was honored to receive AVODAH's Partner in Tzedek Award and the Chicago Board of Rabbis' Rabbi Mordecai Simon Memorial Award as well as being a featured speaker at the Women's March on Chicago 2017. She enjoys co-hosting a podcast on Jewish and Israeli films called The Chosen Films. Her poems and essays have been published in numerous collections including A Life of Meaning: Embracing Reform Judaism's Sacred Path, Seven Days, Many Voices: Insights into the Biblical Story of Creation, and Moral Resistance and Spiritual Authority.

Rabbi Conover is grateful to work in and for a community in which she is proud to raise her two sons Eli and Ben with her husband Damien.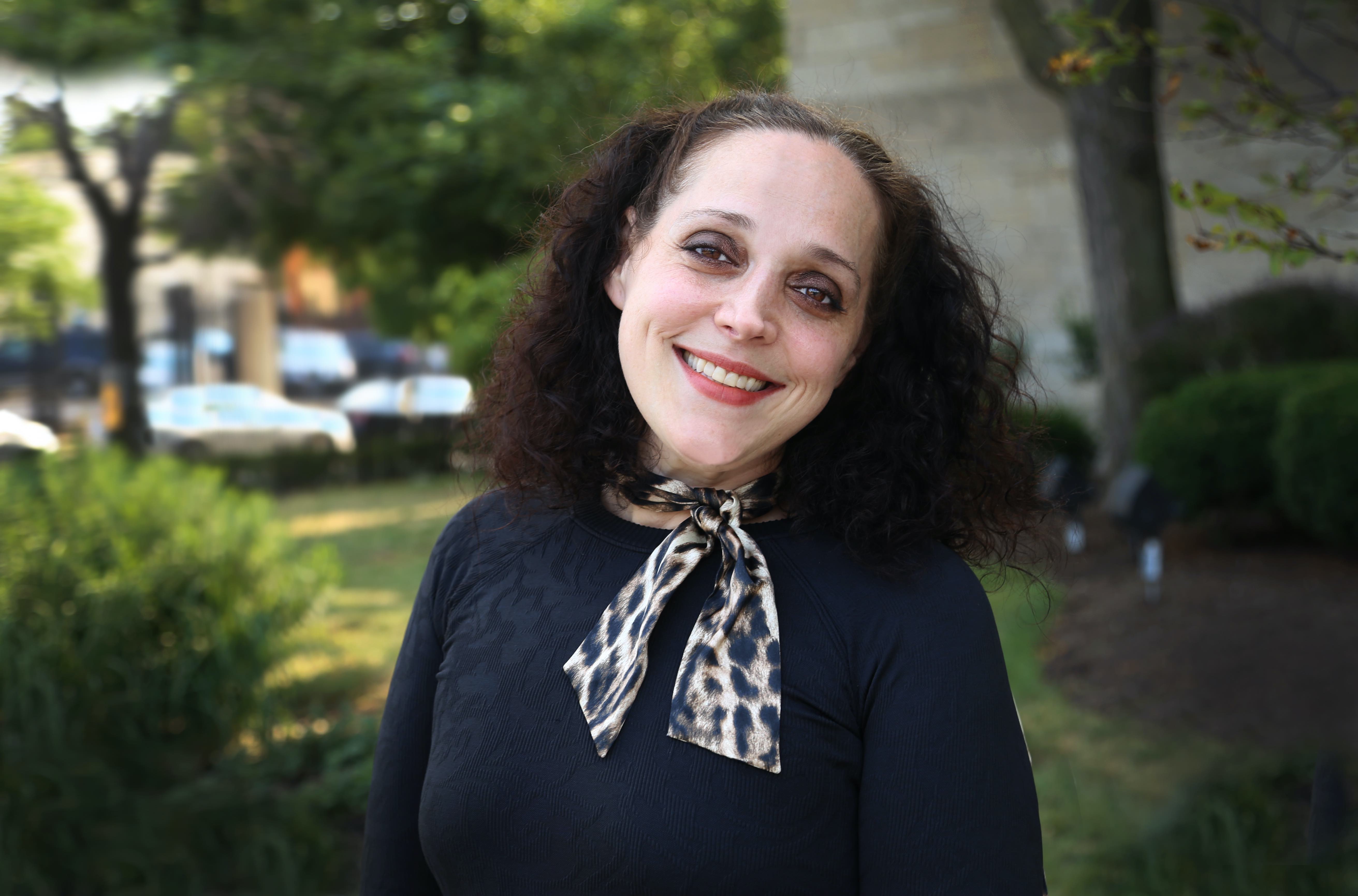 Cantor Sheera Ben-David
773-435-1532
cantorbendavid@sholomchicago.org
Learn more about Cantor Ben-David

Cantor Sheera Ben-David has spent her life immersed in the Jewish community and congregations. After graduating from New York University, she followed in her father's footsteps and began her cantorial career as the soloist for Jewish Family Congregation of South Salem, NY, and went on to serve Beth Am Temple of Pearl River, NY, The Reform Temple of Forest Hills, Temple Israel of New York City and Central Synagogue of New York City. She is deeply proud to continue the legacy that her father, Cantor Kerry Ben-David z"l, began when he converted in 1980 and entered cantorial school at Hebrew Union College. He went on to become Cantor Emeritus at Scarsdale Synagogue in New York after 25 years of loving service. Cantor Ben-David's mother, Batyah Godfrey Ben-David was a principal singer at The Metropolitan Opera House for over 24 years. Both her mother and father have been tremendous influences musically and spiritually.

As an extension of Cantor Ben-David's love and devotion to music, she is an award-winning cabaret singer. She has delivered multiple critically-acclaimed runs at The Oak Room of The Algonquin Hotel, The Royal Room of The Colony Hotel in Palm Beach, Florida, Feinstein's at Loews Regency, and other popular venues around the country where she received rave reviews from The New York Times, The Wall Street Journal, The Huffington Post and other publications. Throughout her secular singing career, she always remained in service to her congregations and feels the intimate craft of communicating and storytelling through music has only enhanced her connection with the incredible Sacred Music of the Jewish people.

Cantor Ben-David is a graduate of Hebrew Union College and after 17 years of connections to many wonderful temples in the New York area, she feels she is finally home at Temple Sholom of Chicago. She started her cantorate at Temple Sholom on July 1, 2016 and her whole family is incredibly blessed to be part of this community. Cantor Ben-David shares a home with her husband, Steven Miller, two sons, Baxter and Shadow and their dog, Wolfenstein.
Rabbi Scott Gellman
Associate Rabbi
773-435-1558
rabbigellman@sholomchicago.org
Learn more about Rabbi Gellman

Rabbi Scott Gellman is the Associate Rabbi at Temple Sholom. He was ordained by Hebrew Union College – Jewish Institute of Religion (HUC-JIR) in May 2017. He previously received his B.A. from Indiana University in Jewish Studies and Philosophy. Rabbi Gellman also attended Gratz College in Philadelphia, where he graduated, cum laude, with a master's degree in Jewish Studies and a Certificate of Jewish Education. Rabbi Gellman's roles at Temple Sholom include providing pastoral care, engaging with students of all ages, and providing support to our Sholom Justice community group, Or Chadash, Temple Sholom's LGBTQ+ and Allies group, and support to each and every one of our members.

Rabbi Gellman served numerous Rabbinic roles during his time at HUC-JIR, including: Student Rabbi at congregations in Beckley, West Virginia and Saginaw, Michigan; Chaplain at a Jewish nursing home; as well as Rabbinic Intern and Director of Youth Engagement at Temple Sinai of Bergen County, New Jersey. Rabbi Gellman's love of Jewish youth work and summer camp were cultivated during many summers at URJ Camp Coleman in Georgia as a camper, counselor, and as a senior staff member.

Rabbi Gellman serves the Jewish and Chicago communities by serving on the boards of the Religious Action Center: Illinois (RAC-IL), Jewish Council on Urban Afairs (JCUA), Chicago Board of Rabbis Executive Committee, and The Community Mikvah of Chicago.

Rabbi Gellman and his wife Ma'ayan Eckstein, both originally from South Florida, live in the Ravenswood neighborhood with their children Yair and Amitai, and their dog, Shmooli.
Rabbi Rena Singer
Assistant Rabbi
773-435-1530
rabbisinger@sholomchicago.org
Learn more about Rabbi Singer

Rabbi Rena Singer joined Temple Sholom as an Assistant Rabbi in July 2020, shortly after being ordained by Hebrew Union College – Jewish Institute of Religion (HUC-JIR). Prior to HUC-JIR, Rabbi Singer earned a Bachelor of Arts in Philosophy, Cum Laude, from Brandeis University.

She also spent two year at New York City's Hadar Institute, an experientially immersive and innovative yeshiva. Rena likes to say she's always looking to find "new ways to say ancient sentences." This is evident in an initiative she and a close friend, Rabbi Samantha Frank, undertook in their third year of rabbinical school. They sought to engage with today's younger generation and seized it by creating Modern Ritual.

Modern Ritual is a Jewish Instagram account with relevant, timely posts about Shabbat, holidays and Jewish concepts. Through her work on Modern Ritual, Rabbi Singer has learned how to use social media as an educational tool and today the account boosts over 14,000 followers. As she says, "our goal is to empower and inspire people to live Jewishly at home. I am so excited for the ways that my work with Modern Ritual will inform my work at Temple Sholom and vice versa."

Rabbi Singer has settled into life in Chicago and has brought her love of Torah and Talmudic learning and teaching to Temple Sholom.
Watch past sermons from the 5783 High Holy Days.
Watch past sermons from the 5782 High Holy Days.
---
Clergy building a legacy of great thinkers and scholars.
Wed, May 31 2023 11 Sivan 5783